I was googling my mental source of ideas while I was trying to sleep, then I got the idea of writing about funny things about different races. But then I feared that maybe some of the readers may not find them funny. I even imagined a ***ean reader tae kwon do'ed his computer when he have read my post! That really scared me. So I decided to post something positive about other races… what could be positive about them?.... ehem, their women.
Let's start with my favorite.
The Latinas/Mexican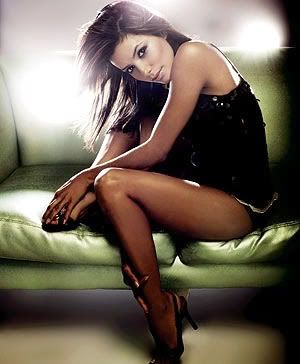 Ok, think of the Filipina version of marimar, yes marian rivera. Isn't she hot enough? No she's not. The original one is! "Thalia" deeeyyymmnnn!! Latinas are so hot; al gore blames them for global warming! I mean imagine Eva Longoria, Jessica Alba and Thalia doing lesbo action (pardon my French) on the polar ice caps, yup, I don't see any ice… I'm too focused on the three naughty Latinas!……. LOL!
Russians
Two words, Maria Sharapova. I like the sound of her grunt! Eeerrrgghhh!! Tok!........ ! Tok!.... eeeeerrgghhhh!!! You know what the audiences do on the tennis court, when they turn their heads from right to left for the whole duration of the game. With Maria on the court with her captivating eyes with hot thighs on tennis shorts! I bet the guys are gonna have stiff neck after the game!
Japanese, Chinese, Koreans
Sorry for the bracketing, they kinda look the same anyways. Though Japanese girls are cuter (Devon Aoki), Chinese girls are hotter (Zhang Ziyi)… as for Koreans…. They're dumber! (in a good way) ok, dumb is a harsh word, let's just call them innocent looking. My favorite Korean chik is Eugene Kim (save the last dance for me). Oh yeah, and Jeon Ji Hyun (my sassy girl)
Americans
Kate Hudson, my favorite blonde:) Well, I'm not really a fan of white girls. But if they come to me, I see no reason to be picky!
Black Americans
Now were talkin! You know those girls dancing behind the rapper on a music video? There is this one girl, she's on the "shawty is a 10" music video. Damn! She's definitely a 10! Don't forget Rhianna on her "take a bow" video! She's so sexy dumping the guy; I wish I was the guy!!
Filipina
I think pinays are the sweetest looking girls in the planet. Of course pinays are basically my favorite. Maybe they are not my favorite in terms of looks. Perhaps I love them for their personality, their customs and beliefs, especially those who grew up with uberly strict parents! Ahaha. Those are what I believe "the maria clara" type of girls. Well im not saying I like MC types. And I'm not saying I don't like them. It's just that, right now, I prefer the sluty bitchy look! (by that I'm just referring with the looks, not the actual sluts) lol
(the photo above is a friend who now resides in California. Thanks for letting me publish your picture! Just for the record: obviously she's the sweet looking type. Pls don't misunderstand her as the SB type. lol)
The "Hybrids"
Filipina+any race
I guess we all agree that: Filipina+any race will come out gorgeous! Look at Vanessa Hudgens, Jasmine Trias and Anne Curtis. I'm telling you "GORGEOUS"! and of course, those chinitas out there, and those fil-ams that you see in the clubs! Deymn! (just hope they are not products of Philippine prostitution) LOL.
(the photo above is actually my cousin. She's half Italian. P.S. for all the guys out there, don't even think about it! now fuck off! lol)
Chinese+Japanese/ Chinese+Korean/ Japanese+Korean
Good luck guessing what her nationality is..
Japanese+Canadian (a special something for our crush of the month)
All hail Maria Ozawa! FYI she IS a porn star, yeah I know… I felt it too… what a waste of goddess like beauty ay? But who cares!? I'll marry her anytime! anywhere!